One in eight American men will be diagnosed with prostate cancer during his lifetime. Prostate cancer is the second leading cause of cancer death among American men and is the most diagnosed.
Early detection and advances in treatment are saving lives. Finding prostate cancer when it is still at an early stage increases chances of survival.
Dayton Physicians Network now offers Pylarify® PET/CT scan.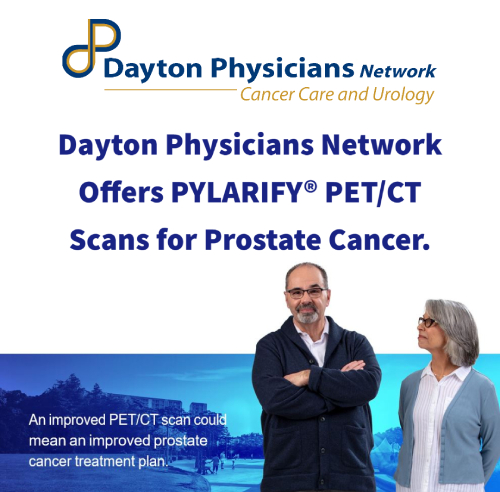 The new state of the art technology detects Prostate-Specific Membrane Antigen (PSMA), a protein found in most prostate cancer cells.
The Pylarify® PET/CT helps us improve prostate cancer treatment plans for our patients.
Its main purpose is to be used in men with prostate cancer with suspected metastasis for initial definitive therapy or with suspected metastasis with suspected recurrence based on elevated prostate-specific antigen (PSA) level.
In addition to the new technology, we have added new treatment options including PluvictoTM (lutetium Lu 177 vipivotide tetraxetan). PluvictoTM is a radiopharmaceutical used to treat adults with an advanced prostate cancer called PSMA-positive mCRPC.
PLUVICTO™ is a targeted therapy that delivers radiation treatment directly to PSMA+ cells.
Pylarify® PET/CT and Pluvicto can be ordered by any provider at Dayton Physicians Network and performed by a Radiation Oncology provider.
Dayton Physicians Network is a multi-specialty group that provides comprehensive cancer care and urologic care services. Based in Dayton, OH, our health care company comprises of highly experienced and Board-Certified specialists in the practices of medical and radiation oncology, urology and medical imaging.