We know that the time spent waiting for test results can be very worrisome, so our diagnostic labs* provide fast, accurate results. At all of our Dayton Physicians Network locations, we offer convenient on-site laboratories for diagnostic testing for a variety of conditions.
Our diagnostic labs are an integral part of our comprehensive approach to patient care. Pathologists and professional lab staff work alongside physicians, advanced practice providers, nurses and staff to design individualized treatment plans for our patients. Accurately and efficiently analyzed fluids and tissues help the physicians determine the best treatment options for your situation.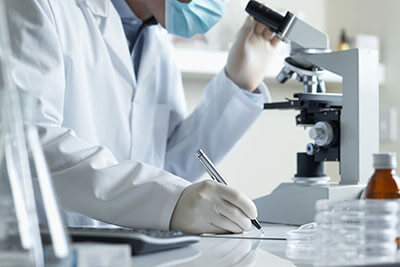 Even though pathologists and laboratory professionals often work behind the scenes, they are an important piece of the puzzle. The labs provide the highest quality services; equal to or better than any academic institution. All our laboratory staff members are not only experts in their field but also offer personal, friendly service to patients and staff partners.
At Dayton Physicians Network, we offer sophisticated testing and expert clinical and anatomic pathology lab staff who are critical to the multidisciplinary team approach to patient care.
*Laboratory testing services are provided in collaboration with professional laboratories.
Clinical Laboratory
Clinical Lab tests can be used to diagnose and monitor a variety of conditions.
Some of the clinical tests we offer for cancer care and urology include:
Urine analysis with microscopic evaluation
PSA Prostate-Specific Antigen – used in the diagnosis of prostate cancer
Free PSA Free and Total PSA – helps your urologist decide whether a prostate biopsy is necessary
Testosterone – male hormone responsible for sex drive and muscle mass
Complete Blood Count (CBC) – used as a screening test for various disease states including anemia and inflammatory processes
Basic Metabolic Profile or BMP – a standard set of tests for sodium, potassium, chloride, glucose, BUN and creatinine levels in your blood. It reveals important information about the status of your kidneys, blood sugar, electrolytes and blood pH balance