MOSES 2.0 Pulse 120H holmium laser, is a new system by Israeli medical device company Lumenis Ltd. that provides advances in treatment for kidney stones and enlarged prostate.
Since installation in July 2020, Dayton Physicians, providers have used the new platform's kidney stone dissolving capabilities on over 100 patients, and DPN urologist Blake B. Anderson, MD has performed over 155 minimally invasive prostate surgeries.
The laser allows even better control of bleeding, decreasing postoperative catheter time so patients may even be discharged the same day without a catheter," Dr. Anderson said.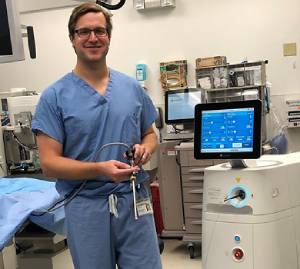 Holmium Laser for Treating BPH:
One of the most common health problems for men over 50 is benign prostatic hyperplasia (BPH). Put simply, the condition is the result of prostate gland enlargement. It can cause a number of varying symptoms, including uncomfortable urinary issues, blocking the flow of urine out of the bladder, and urinary tract and kidney problems.
The use of Holmium Laser is accepted as the gold standard for treating BPH.
The Holmium laser's high level of precision and enhanced efficacy, allow surgeons to quickly remove the enlarged prostate tissue, and provide quick symptom alleviation and a long term solution.
The operation performed with this laser for BPH is called Holmium Enucleation of the Prostate (HoLEP).
Currently Dayton Physicians Network's Blake Anderson, MD is the only physician in the area and 1 of only a few in the Midwest who does high-volume holmium laser enucleation of the prostate (HoLEP).
Holmium Laser for Treating Kidney Stones:
Kidney stones are one of the most common urological problems in the United States and are also known as Renal Calculi. Approximately 1 in 11 people in the U.S. are affected by kidney stones. The stones grow slowly in the affected patients (over several years) and do not usually cause pain until they move or obstruct the kidney.
With medical treatment more than half of these stones will pass on their own, usually within 1 to 2 weeks. However, stones that become lodged in the ureter or larger stones may require surgical removal.
The Holmium laser has significantly improved the management of stones, providing a less invasive and more effective treatment. Holmium lasers and associated fibers effectively fragment stones of any composition or size throughout the urinary tract.
Patient Testimonials:
— Dr. Anderson removed three calcifications from my bladder and reduced my prostate using the HoLEP procedure. My recovery was painless and very quick. I am 79 years old and feel better now than I have felt in thirty years. His work has completely changed my life, not least because of restoring my faith in doctors. He asked me if I had any questions, genuinely, both before the operation, and after the operation. And he was unfailingly kind and respectful, which means more a lot at the end of the day. A million stars for you, Dr. Blake Anderson.
— Dr. Anderson performed HoLEP procedure in a very effective and professional manner. Glad he decided to come to the Dayton area. He explained fully the process prior to surgery. His concern for my recovery is greatly appreciated. At just over two weeks post-op most of healing process is exactly as Dr. Anderson described. Very satisfied with the results.
— Dr Anderson is the expert with Holep surgery; he does many of these procedures, so he has the expertise and experience. He consulted with me and explained everything, talked with me right before surgery, again in post-op, also stopped in my room later that day, and saw me twice the next day. He really cares for his patients. Even my nurses said he is the best! If you have issues caused by a large prostate, you need to see Dr Anderson.