Prostate MRI
Magnetic Resonance Imaging (MRI) is a technique used to image organs using radio waves and strong magnets, instead of x-rays to provide remarkably clear and detailed, cross-sectional pictures of internal organs. MRI systems are able to distinguish between normal and diseased tissue. MRI has the advantage of evaluating the whole prostate to look for areas suspicious for cancer. MRI of the prostate scans can provide high-resolution images of the prostate.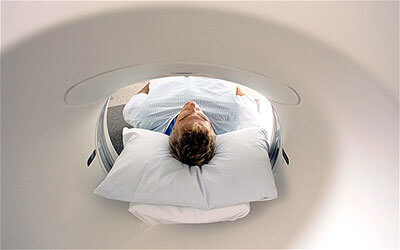 MRI of the prostate is a complementary tool to other methods currently used in prostate cancer diagnosis, staging, treatment planning, and management. Another common term for prostate MRI is multi-parametric MRI (MP-MRI). The latest sophisticated technology used to obtain the images is a MRI scanner known as 3Tesla or 3T MRI machine. It is the newest and most powerful MRI available for use in prostate cancer imaging and it is available locally in the Miami Valley.
Benefits Of Prostate MRI:
Measures the extent of tumor volume
Identifies the tumor's location or locations in the gland
Estimates how aggressive the tumor is, which is critical to planning accurate biopsy guidance
Reveals staging information
Determines whether the tumor has spread beyond the prostate gland
MRI/US Fusion Guided Biopsy
Researchers have developed software that "fuses" pre-biopsy prostate MRI scans with ultrasound guided biopsy in real time. This provides much more detail of the prostate and suspicious lesions. It also provides a 3-D ultrasound/MRI view.
The fusion of the MRI and ultrasound images use electromagnetic tracking, similar to GPS tracking systems. A tiny tracking sensor attached to the trans-rectal ultrasound probe generates a small, localized electromagnetic field that helps determine the location and orientation of the biopsy device. An advanced computer system maintains the fusion of MR and ultrasound images, even when the patient moves.
Benefits Of MRI/US Fusion Guided Biopsy:
Identifies and locates hidden tumors missed by traditional biopsies
Enhances visualization of tumors within the prostate, detailing exact size and location of suspicious tissue and tumors
3D map of the prostate and tumor allows for targeted biopsies and improved sampling for a more accurate diagnosis.
Fusion of live 3D Ultrasound and MRI images provide more accurate staging, diagnosis and individualized cancer treatment and management plan
The system provides the ability to retrieve a record of previous biopsy sites to allow the urologist to go back to the exact area of a previous biopsy site
While MRI and MRI/US Fusion Guided Biopsy may offer benefit in a few scenarios, it is not appropriate for all men. Those who would potentially benefit, generally fall into the following categories:
1. Men who have had multiple repeat negative biopsies, but rising PSA levels. This can prove frustrating for both physician and patient. Now we have a technique available that can minimize the number of biopsies needed to diagnose cancer.
2. Patients on active surveillance or to confirm they are good candidates for active surveillance. We want to be sure we are following the right men and not missing any serious cancers.
3. MRI can be used for surgical planning. This helps to assess whether a nerve sparing prostatectomy can be performed, and can be used to better stage prostate cancer. This imaging can also detect whether extraprostatic extension is present or whether seminal vesicles or pelvic lymph nodes are involved.
Prostate MRI and MRI/US Fusion Guided Biopsies are the most advanced techniques available to screen and stage prostate cancer in the appropriate situations. Although a prostate MRI or MRI/US Fusion Guided Biopsy is not appropriate for all men, if you or a loved one are concerned about the risk of developing prostate cancer, we encourage you to talk to your Urologist about these tests to determine if they are right for you.
To learn more about these procedures and about Dayton Physicians Network Urology please call 937-293-1622.
We're here for you, leading with the latest technology.