Financial Support When You Need It
Thank you for choosing Dayton Physicians as your specialty healthcare provider. Dayton Physicians is a caring organization that is committed to providing patients with excellence in specialty oncology care.
We realize that the billing and financial aspects of healthcare can be quite complicated, and it is our goal to simplify this process as much as possible. During your treatment with us, we want to enable you to focus on healing by reducing the stress associated with healthcare costs.
Our Financial Counselors Are Here To Support You Through:
Understanding the cost of treatment
Identifying payment assistance programs such as co-pay assistance, grants and Medicaid
Create a budget payment plan to address out-of-pocket expenses through comfortable monthly payments.
A financial counselor will meet with you to review your anticipated patient responsibility and assist with payment arrangements. Please bring proof of income if you wish to apply for financial grants which may be available.
For more information on what to expect from your financial counselor, please review the list inside this brochure.
What Are Co-pays, Co-insurance And Deductibles?
Co-Payments are a flat fee paid each time a medical service is accessed and must be paid before any policy benefit is payable by an insurance company.
Co-Insurance is a percentage that the patient pays after the deductible has been satisfied.
Deductibles are an amount which must be paid out of pocket before an insurance carrier will pay any expenses. The deductible must be paid by the patient before the benefits of the insurance policy can apply.
Budget plans are a service offered by Dayton Physicians to assist patients in paying for balances determined to be patient responsibility. Ask your financial Counselor for more information. We are able to set up automatic recurring monthly payments, among other options, to aid you in resolving your patient balance.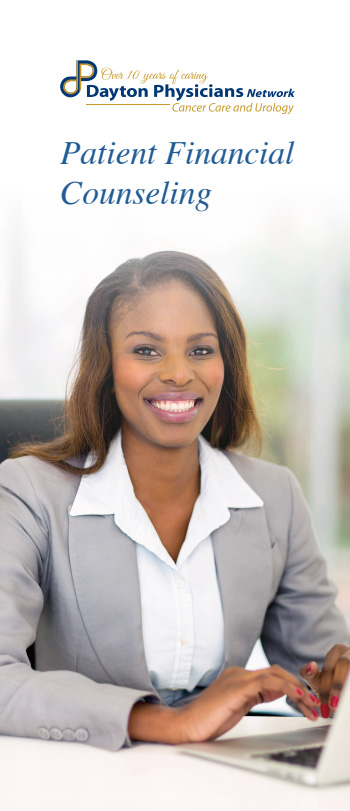 Payment Methods
Cash
Checks
Credit cards (Visa, MasterCard, Discover)
Secure electronic recurring payments with your qualifying debit/credit card
There are several outlets for paying for your balance in a secure environment. Each patient statement you receive includes a unique URL which will direct you to an online patient payment portal, or you can call our business office to make secure payment over the phone.
Online Patient Payment Portal
This portal allows you to make your payments online and enables you to manage your account as well as sign up to receive electronic statements.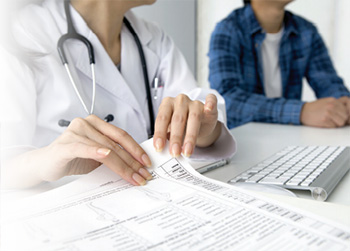 Patient Assistance Programs
Depending on your insurance and personal financial situations, many of our pharmacology partners offer patient assistance programs that may cover part, or all of your out of pocket cost associated with your medication regimen. We will schedule you with your Financial Counselor before beginning treatment. During this visit your Financial Counselor will evaluate your individual situation and will initiate application for any benefit you may be entitled to. If you are interested in financial assistance, please bring proof of income to this appointment.
What To Expect From Your Financial Counselor
Review of your insurance benefits and estimation of patient financial obligation.
Determine eligibility for co-pay assistance.
Set up budget-friendly monthly payments.
Review / interpret your medical bill.
Coordinate further assistance through our affiliates, as needed.
Find Assistance At Your Treatment Location
Upper Valley Medical Center and Greenville
937-440-4299
3130 N. County Rd. 25A, Suite 107
Troy, OH 45373
Vision: To be the BEST PLACE FOR CARE
Mission: Exceed Expectations
Quality of Care
Scope of Service
Compassion
Timeliness
Cost Effectiveness